Classes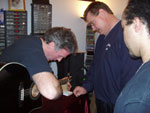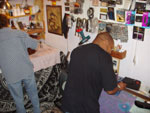 Classes are $475.00.
Guitar Repair Basics:  This course is designed to give you the knowledge and terminology to understand the mechanics of the guitar, maintain your instrument once it has been professionally set up, evaluate your instrument, and what to look for when purchasing new and used instruments.  Bring one electric, acoustic (steel string or classical), or bass to be evaluated.  This class is limited to 5 people.
Repair Intermediate:  This is a hands on repair class.  Bring two instrument for you to set up from beginning to end under Mark's guidance and your ruler from Repair Basics.  Other tools will be available for use in the shop. Instrument should be examined by Mark prior class.  Limited to 4 students
Repair Intensive – Building Nuts:  Building nuts from bone or graphite. Bring up to two instruments.
Repair Intensive – Fret Levels:  Learn the basics of leveling and crowning frets. Bring one instrument.
Repair Intensive – Full Set Ups:  Picks up where the intermediate class left off.  Set ups intensified.  All hands on.  Bring up to three instruments.
Repair Class – Private:  Any class can be offered as a private class.  Call for details and scheduling.
11,432 total views, 2 views today